Hawkes Bay is a stunning destination to visit in the East Coast of New Zealand's North Island. If you like wine, sunshine, award-winning food, art deco architecture, outdoor activities and beautiful beaches, then visiting Hawkes Bay should definitely be on your New Zealand North Island itinerary! 
With stunning forests, mountains close by and endless adventure spots to explore you will be spoilt for choice of activities and places to see in "the bay". This article outlines some Hawkes Bay activities not to miss from a locals perspective to give you an authentic experience of the region. 
But first, a little introduction to Hawkes Bay so you know exactly what you're getting yourself into! 
Where is Hawkes Bay? 
Located on the East Coast of New Zealand's North Island about a 4-hour drive from Wellington- The capital of NZ! Hawkes Bay is unique in the way it sits along a semi-circular bay that extends 100 kilometres. You can see the large curve in the Map of Hawkes Bay NZ below. 
Hawkes Bay Map NZ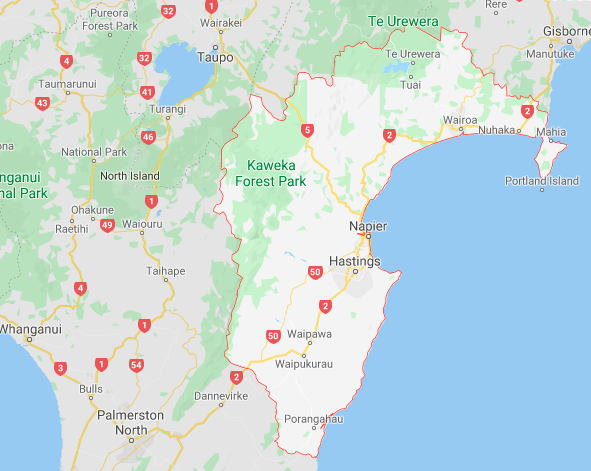 There are two cities to be aware of. These are Hastings and Napier which make up most of Hawkes Bay population. Hawkes bay is also full of many towns, the largest being Havelock North. Below is a little overview of what you will find in Napier and Hastings. 
Napier activities and attractions: 
If you are wondering if Napier is worth a visit my answer is… Definitely! 
If you are into art deco you will be amazed at the city's architecture. There is so much to see and do in Napier including visiting numerous wineries, cafes, bars and restaurants as well as strolling down the iconic Marine parade (described below) and more! 
I would highly recommend doing a self-guided city tour. Learn about the history behind the 1931 earthquake that measured 7.8 on the Richter scale. Grab a self-guided walking brochure from the i-SITE on Marine Parade. To see more about Napier attractions visit NZ Pocket guide (here). 
Hastings activities and attractions: 
Hastings is located 20 minutes drive from Napier and is an agricultural hub.  While Hastings is not as popular as Napier it is a really good place to base yourself on your adventure and enjoy the Hawkes Bay farmers market held every weekend! 
There are numerous places to enjoy a bite to eat and a delicious beer or wine- A foodie's paradise! Plus you are more central to the activities on offer such as climbing Te Mata peak (described below) and many of the beautiful Hawkes Bay vineyards. 
What is Hawkes Bay known for? 
Hawkes Bay is well known for the popular art deco city Napier as discussed above, as well as its famous red wines and chardonnays. It is one of New Zealand's most famous wine regions alongside Marlborough and Otago in the South Island. It is also known for its amazing award-winning food, beers and stunning scenery. 
Hawkes Bay weather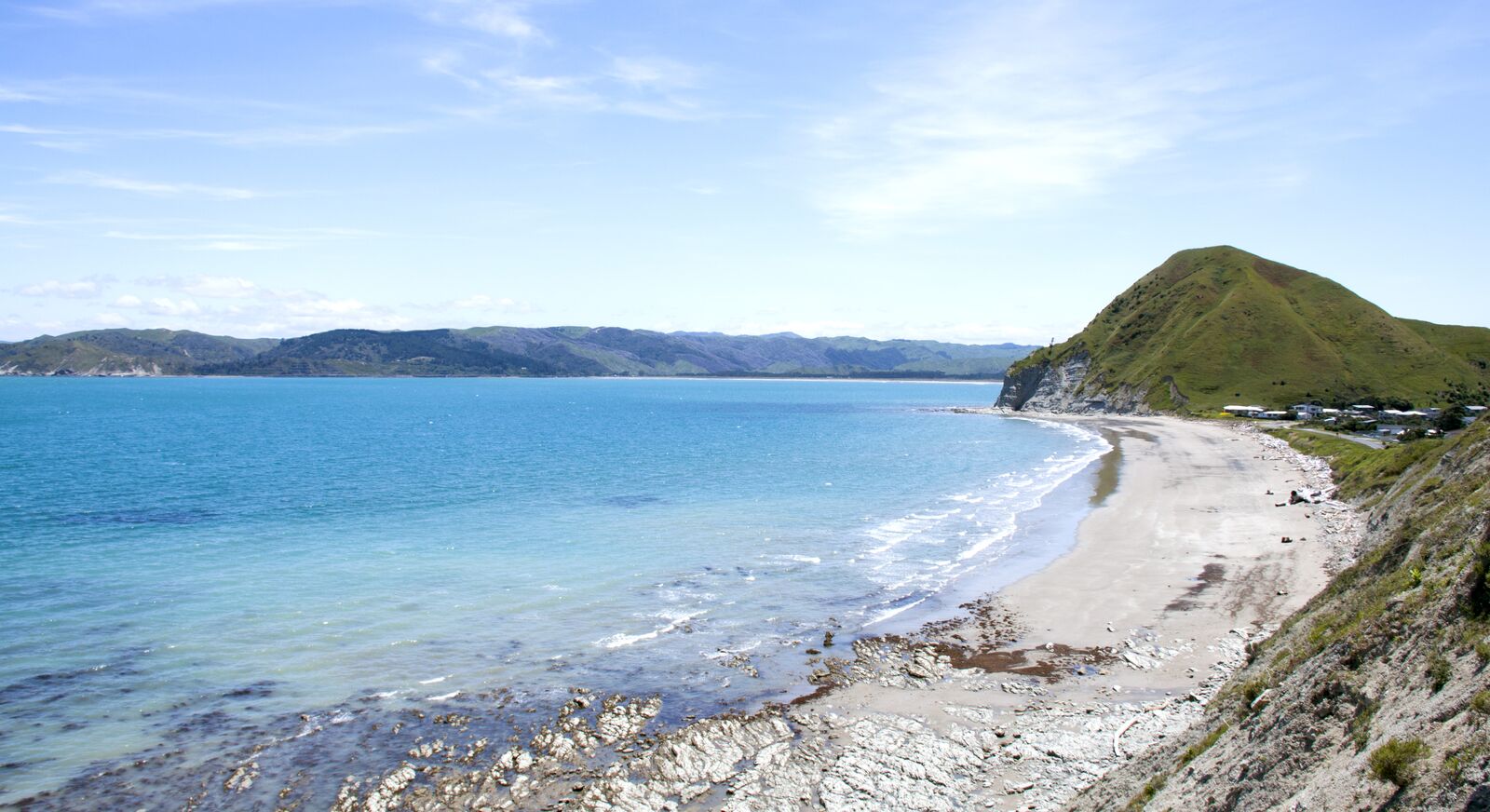 The weather in Hawkes Bay New Zealand is comfortable. With long and hot sunny days. The weather is normally not too cold and not too wet. Temperatures in summer range on average from 13- 23 degrees and 4- 14 degrees in winter. Visit Hawkes bay any time of the year. 
Hawkes Bay Activities 
Now you're convinced on visiting this stunning part of NZ you may be wondering about the various Hawkes bay attractions and what to do? If so, check out the details below of 14 amazing things to do in Hawkes Bay.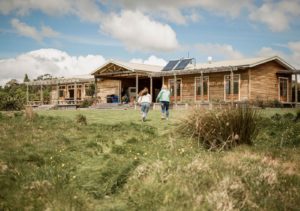 1. Stay at Mangarara Eco Lodge
If you read the last blog post on the amazing eco-farm tour (here) you would have been introduced to Mangarara – The Family Farm. On the farm tour, we stopped by Mangarara Eco Lodge for a delectable, tasty, healthy and nutrient-rich lunch. 
You don't have to take the Mates Travel farm tour to access Mangarara Eco Lodge. They have a website (here) where you are able to book out the lodge for your family escape, special occasion or corporate function. They describe it as "the perfect opportunity for your family and friends to unwind, rejuvenate, and watch the world of Horseshoe Lake unfold before you" and I wholeheartedly agree. This is a great place to unwind, feel off the grid and enjoy a unique part of Hawkes Bay. 
2. Visit one of the many wineries
There are 72 wineries in Hawkes Bay which makes picking a few to visit rather tricky. It is likely any of the 72 you visit will be an incredible experience but my advice is to decide HOW you are going to visit them and the wines you enjoy the most.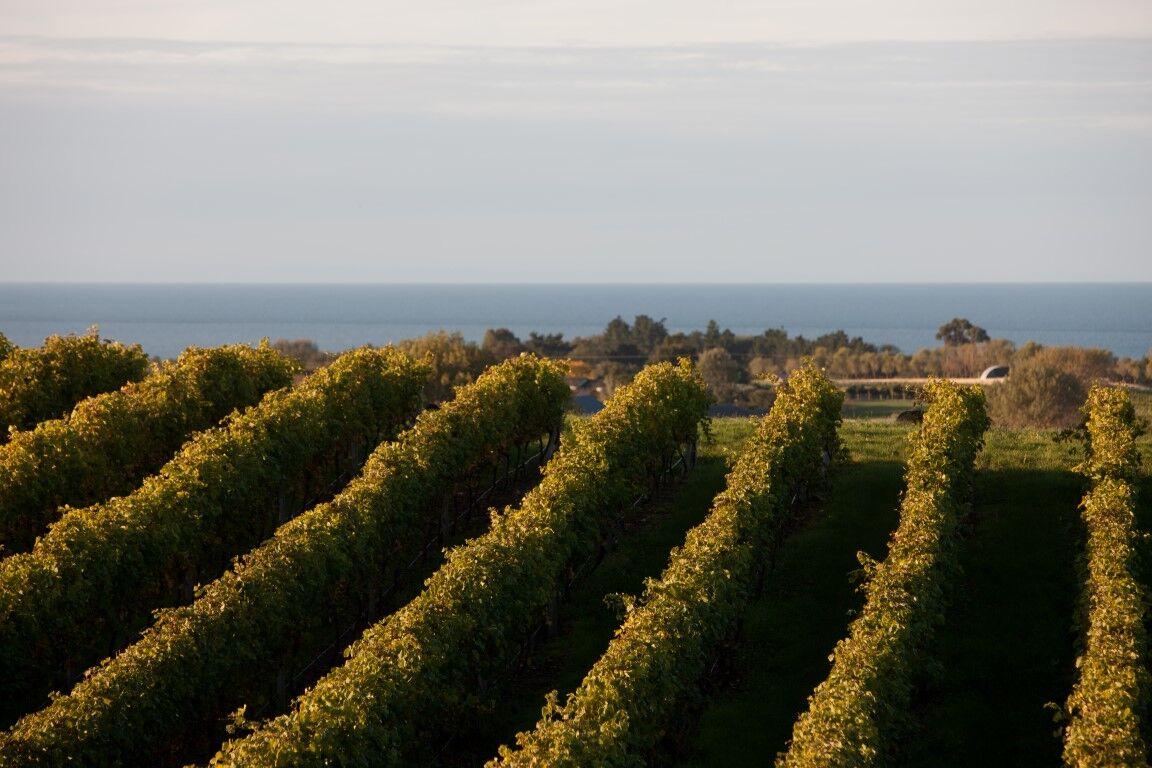 Where are you staying? Or where are you willing to travel? Below is a link to a map of Hawkes Bay wineries to give you a better idea of where you might like to travel and which wineries you would like to visit along the way. 
Click here to go directly to the Hawkes Bay wineries map
Are you keen on a wine tour by bike? There are many winery bike tours in Hawkes bay! I have heard good things about On Yer Bike. Check them out here! 
What is your favourite drop? Have a look at the wineries websites and what they specialise in! This is a good article describing some of the best wines.
If you are really unsure which wineries to visit check out this article by the Urbanist which outlines 7 of the best Hawkes Bay wineries. 
And lastly, if you are after a bite to eat many of the best Hawkes bay restaurants are in fact, wineries! Check out the article from NZ Herald here! 
3. Water Sports at Backpaddock Lakes
Backpaddock Lakes is a unique place for some fun and adventure. As the name suggests it is literally a lake in a paddock but it provides one of the most unique water sports experiences in Hawkes Bay.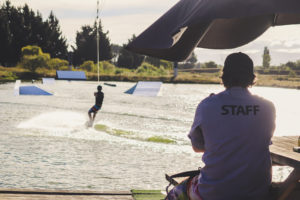 Activities on offer at the lake include: 
Cable Wakeboarding

Paddleboarding

Waterskiing/wakeboarding

Barefoot skiing

Sailing

Single skiing

Kayaking

Boating 
If any of the above interests you pop on over to Backpaddock Lakes website here.
4. Feed the eels in Norsewood 
Fancy visiting the Wop wops? (Kiwi slang meaning the middle of nowhere). The wop wops wetlands park is not actually in the middle of nowhere. It is located in the Manawatu-Wanganui Region about 1 hour 20 minutes drive from Napier. 
The park is a unique experience and one to add to your Hawkes Bay itinerary (although not literally in Hawkes bay) for the chance to feed eels, learn about wetland protection and enhancement. To feed the eels you will need to pop into the New Zealand natural clothing store and ask. Why not stop in and grab yourself some homemade woollen garments while you're there?  
Check out their Facebook page for more details here. 
5. Try Mohaka Rafting
Titled the best rafting in New Zealand you are in for one hell of an adventure experience! Mohaka is located about 1-hours drive north-west of Napier. Whatever type of rafting experience you would like to do Mohaka Rafting has you covered! Check out their website here for more details. 
6. Mountain biking at Eskdale
If you like mountain biking you will be in for a treat at Eskdale. It is one of New Zealand's largest mountain biking parks set in Pan Pac 'Tangoio' Forest which is a privately owned, productive working forest. Meaning you will need to get a visitors pass to gain access. You can purchase a pass from any of the main cycling shops, Info Centres, Bayview 4 Square or online. Check out Hello Hawkes Bay website (here) for more information about the park, the trails, access and map.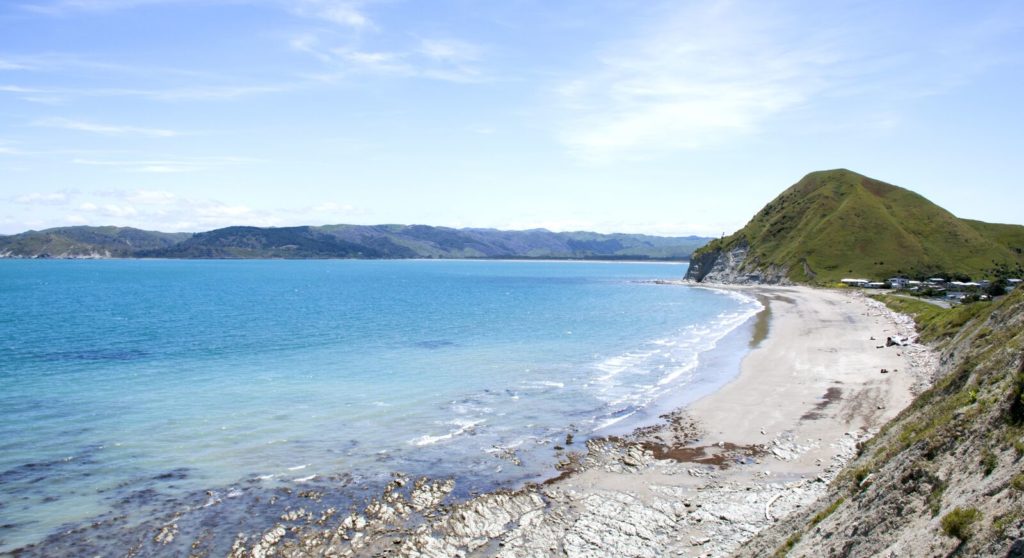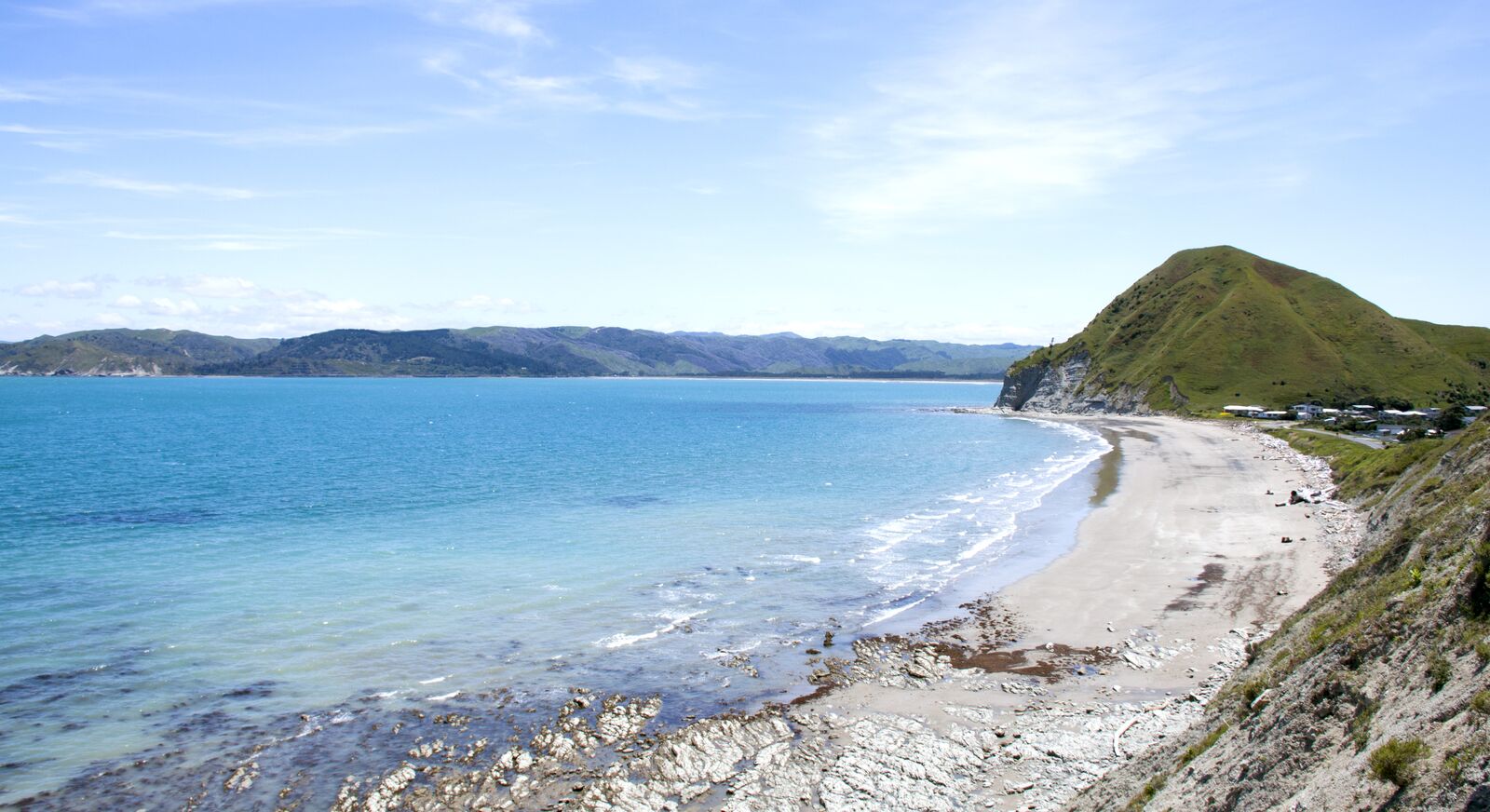 7. Visit Mahia beach 
Located in northern Hawkes Bay, Mahia beach is a place you must visit while travelling through the East Coast. The beach is a family-friendly location and a popular holiday spot for locals. Swimming in the bay is usually safe as the water is relatively shallow. 
There are many activities on offer in the area such as golf, tramping, hiking, fishing and surfing. But perhaps the most outstanding is the fact it is home to Rocket lab. Yes, you may see a rocket being launched! The best spot to see one would be from the top of Mokotahi Hill.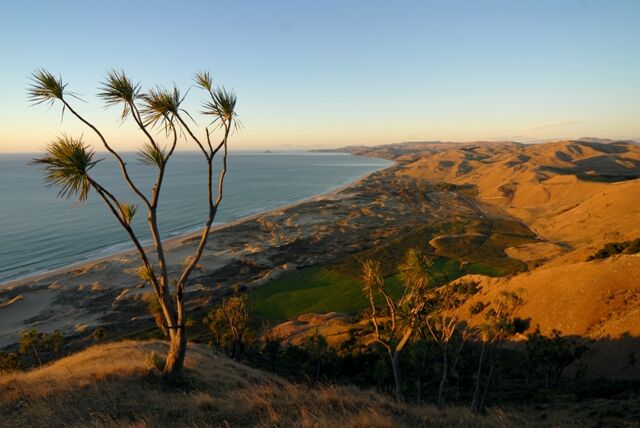 8. Pop by Cape sanctuary
A wildlife restoration project located on the Cape Kidnappers peninsular (described below). Enjoy learning about the restoration project, visiting the native birds (you may not see them all!) and abundant wildlife. 
To learn more about the sanctuary check out their website here. 
9. Ocean beach horse trek
Hawkes Bay is a perfect location to saddle up and enjoy stunning views of the East Coast. If you would like to visit the countryside and enjoy seaside views that are truly unique to Hawkes Bay then an Ocean beach horse trek is for you. Ocean beach horse trek has a trip to suit your ability and time frame. 
Check out their website here.
10. Take a stroll down Napier marine parade 
If you want to be smack bang in the middle of Hawkes Bay, walk along the stunning coast, pop out and view Mahia in the north and cape kidnappers to the south, on a unique concrete pier you're in luck!
There are many activities and things to see along the parade. Check out Hello Hawkes bay website (here) for more details. 
But perhaps my favourite thing to do along Marine Parade is visiting the bars and taking a stroll where you get to see the stunning art deco city. The art deco city is a phenomenal example of a city re-build that did not conform to conventional norms.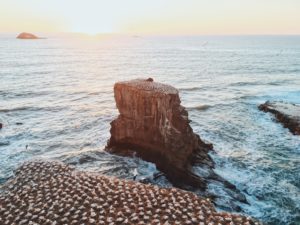 11. Explore Cape Kidnappers Reserve 
View Hawkes Bay from a unique angle at Cape kidnappers reserve known for its dramatic coastal views and 2500 gannet bird colony. Cape Kidnappers gets its name because a local Maori tried to abduct one of Captain Cook's crew members on the HMS Endeavour. 
Cape Kidnappers walk is currently closed due to rockfall. This also means viewing of the gannet bird colony is limited as the best place to view them is at the Plateau. This is on private land. To access this you will need to use a commercial tour operator. Have a look at Gannet Safaris for more information about accessing Cape Kidnappers. 
Hawkes Bay Walks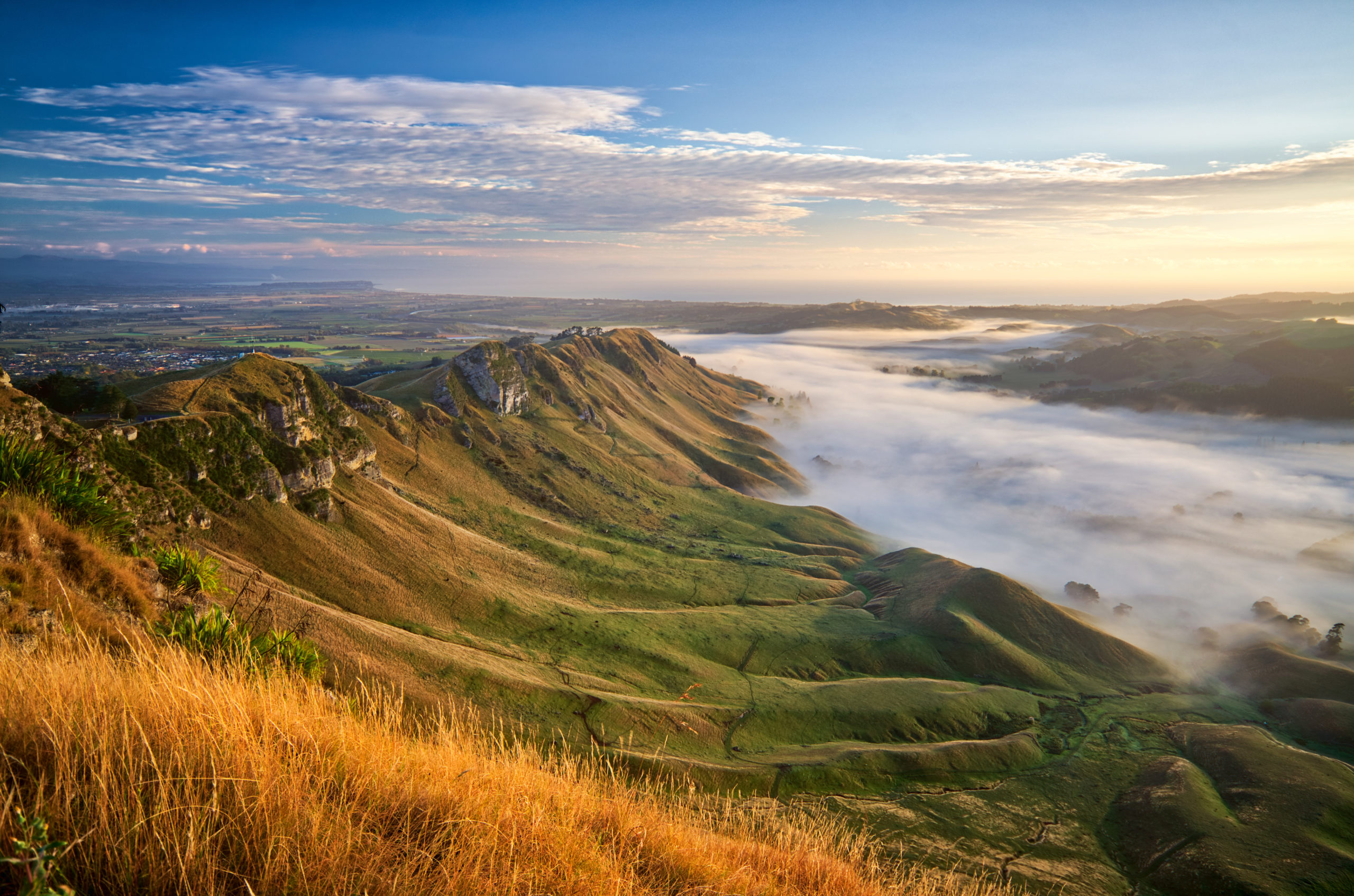 12. Te Mata peak
One of the most iconic spots in Hawkes Bay for its stunning views, history and location. Te Mata peak is located behind Havelock North and provides 360-degree views of Hawkes Bay. You can walk, run, mountain bike or drive to the top of Te Mata peak but you are also able to enjoy the parkland and Redwood forest below. There are many circuits to suit all fitness levels and needs. 
There is also a Maori legend behind Te Mata peak. If you're interested read more here.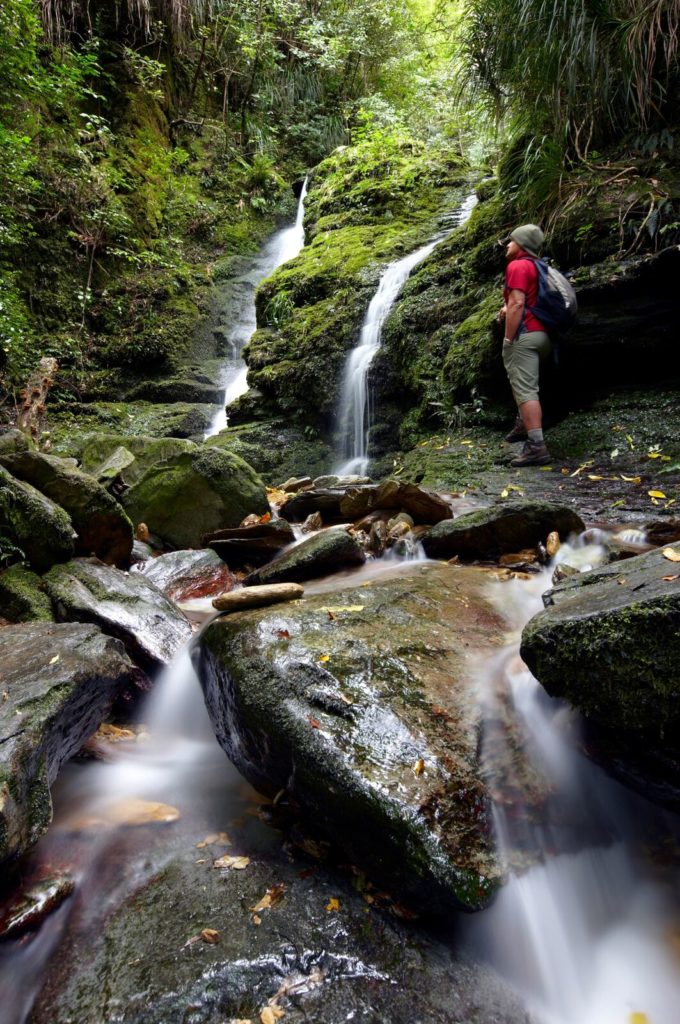 13. Shine falls
One of the most spectacular waterfalls in Hawkes bay located 1.5 hours from Napier! Perhaps you have seen this 58-meter waterfall on Instagram? If not check out #shinefalls to see for yourself! I am sure after viewing the photos you will want to make the 1.5-hour return (walking) journey. 
For more information on how to get to shine falls visit Hello Hawkes bay's website here. 
14. Lake Waikaremoana 
Lake Waikaremoana is one of New Zealand's Great Walks located within the Te Urewera ranges and home to the Tuhoe people who have lived in the region for centuries. If you are keen to see magical wetlands, rainforests and the stunning Lake Waikaremoana then the tramp is for you.  The track mostly follows the Lake over 3- 4 days. Check out the Department of Conservation brochure here for more information and to plan your journey.
Tip: Some water taxi companies are no longer running. To ensure you choose the right company please contact the Wairoa i-SITE via email or phone +64 6 838 7440. isitewairoa@wairoadc.govt.nz.
Hawkes Bay accommodation 
So you're keen on visiting Hawkes Bay? That is exciting! Here is some helpful information about finding a place to stay. 
Hawkes Bay has a vast array of accommodation options from beachfront baches to stylish luxury retreats. You are guaranteed to find a place to suit your needs. Below is an outline of some of the accommodation options on offer and where to go to learn more! 
Hawkes Bay Hotels & Motels: Booking.com is a great place to find a hotel or motel to suit your needs. The Hotel Guru also provides a user-friendly site to find the best hotels in Hawkes Bay. check them out here.
Hawkes Bay Luxury Accommodation: Whether you want a luxury cottage, sleep amongst one of the many vineyards or stay in a unique villa Hawkes Bay has you covered. Check out the Boutique accommodation on offer here. 
Hawkes Bay Hostels: Hawkes Bay is a popular destination for backpackers and there are many hostels to choose from. Take a look at NZ Pocket guide (here) for a list of the best 8 backpacker hostels. 
Hawkes Bay camping grounds and holiday parks: There are many camping grounds to choose from in Hawkes Bay. If you are travelling by campervan you will be happy with the range of stunning spots on offer. One of the most popular spots to camp is along the Marine Parade in Napier but it is mainly suited to self-contained vehicles and spots fill up fast! 
Airbnb Hawkes Bay: Some of the best accommodation is listed in Airbnb take a look at what's on offer and start your search here!
The Department of Conservation runs a range of campgrounds in the bay. Check them out here. 
There are also lots of holiday parks to choose from. Check them out here. 
Perhaps my favourite way to find camping grounds in the region is using the app CamperMate. It adjusts to your location and you are able to filter for what you need including finding toilets and activities. To discover more about using the app head to their website here. 
---
There are endless activities and destinations to explore in Hawkes Bay but hopefully, this article has given you a little bit of insight into the region. By now you should be heading in the right direction to planning the best New Zealand travel experience by stopping in Hawkes Bay! 
Also, if you're into running there is an annual marathon. This year it is held in May. Check out the marathon website here! 
And if you are keen to check out the Hawkes Bay eco-farm tour pop on over to the booking section here. Or alternatively, pop on back to the home page here. 
Thanks for reading and be sure to pin the images below for later so you don't forget about Hawkes Bay things to do and see! 
Simply click the image below and you will be able to save directly to Pinterest! Easy!